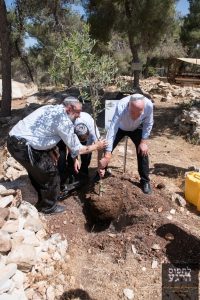 On the anniversary of the abduction of the three youths, Gil-Ad, Eyal and Naftali, Minister of Agriculture Uri Ariel came to visit Oz veGaon.
The minister planted an olive tree and quoted Rav Kook, who said that one first rakes the soil with ones hands because one must first actually touch the soil of the Land of Israel with our hands and only afterward rake it with a tool.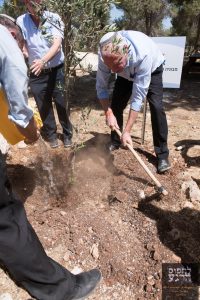 Also in attendance, in addition to the minister, were Mister Gael Greenwald, chairman of the Settlement Division, Mr. Tzvika Bar-Hai, CEO of the division and Mr. Zephania Shaulker, manager of the Mountain and Coastal Plain District, accompanied by Head of Gush Etzion Council Mr. Shlomo Ne'eman and his deputy, Yoel Silver.
The minister asked about the needs of the preserve and promised to help. The minister and all of those in attendance watched a short film on the educational-agricultural activity that is done at the preserve. During the past three years, more than 35,000 young people have come to Oz veGaon, of all types and ages, and they do exactly what Rav Kook said: they all touch the soil of the Land of Israel with their hands.
After some words regarding the three youths, the main import of the minister's words was that the time has come for sovereignty. The minister called on the prime minister to establish many more communities and do a lot of planting, to build and continue forward.
Photos Elad Pessach for Women in Green